Ivalu artists bring their wares to the masses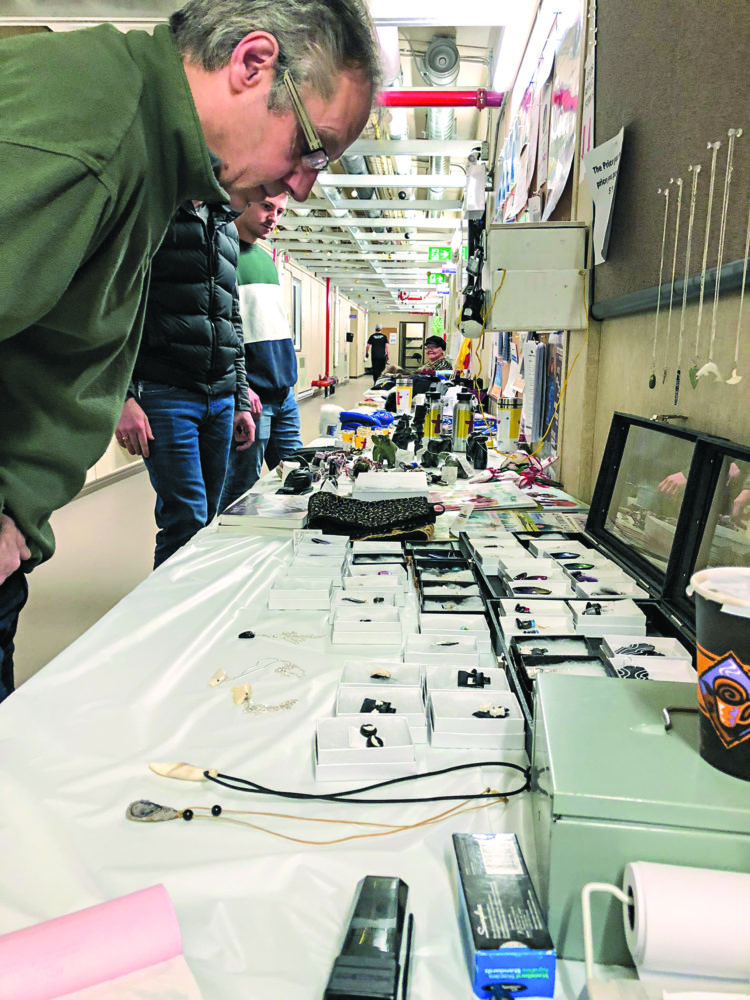 by Darrell Greer– January 25, 2019 – Nunavut News
Agnico Eagle Mines employees check out the fabulous items for sale during Ivalu's visit to the Meliadine gold mine site near Rankin Inlet on Dec. 23, 2018. Photo courtesy Ivalu
The Nunavut Development Corp. (DevCorps) outlets of Ivalu Ltd. in Rankin Inlet and Jessie Oonark Centre in Baker Lake completed their second year of bringing their wares to the masses by spending afternoons at the Meliadine gold mine site near Rankin and the Meadowbank gold mine near Baker.
DevCorps manager of finance and administration Bernadette Tutanuak said Ivalu took a large number of items from its retail location in Rankin, including products purchased from the south but promoting Nunavut such as flags, shooters (shot glasses), mugs, licence plates and jewelry made by sister company Uqqurmiut Centre for Arts and Crafts in Pangnirtung.
She said crafts taken included sealskin and beaver mitts, slippers from Taluq Designs in Taloyoak and carvings.
"The most popular items during both our trips to Meliadine were the shooters displaying the Nunavut flag," said Tutanuak.
"The guys at the mine love their shooters," she laughed, "but, at the same time, they bought pretty much anything with the Nunavut flag or colours on it.
"While most of what the non-Inuit workers bought were the lower end of our products, it's no different than when we go down south and buy P.E.I. souvenirs or whatever.
"Some of them did purchase the sealskin and beaver mitts, as well as the Taluq Designs slippers. We've averaged about $7,000 in sales each trip, which is about four hours of actual sale time. "
DevCorps business adviser for cultural industry Goretti Kakuktinniq said Ivalu has found its soapstone carvings, various pieces of jewelry and hats made in Pangnirtung to also be quite popular on the trips.
She said each of the DevCorps subsidiary companies had an item popular with the Meliadine workers.
"Agnico Eagle Mines (AEM) actually initiated this by contacting us to go up to Meliadine ahead of Christmas – we made two trips on Dec. 5 and 19 – to sell our products," said Kakuktinniq.
"They also support us by buying whole collections of art for their higher-end executives, and we always see their southern employees at Ivalu a lot when they visit Rankin Inlet.
"AEM is very accommodating when we make our trips to the mine and it's been very good to work with since day one.
"We need to get up to Meliadine more often, not just at Christmas, so hopefully we can work that out in the near future."
David Ford of the Jessie Oonark Centre in Baker Lake said AEM treats them very well during their visit to Meadowbank, including making lots of food available through its cafeteria.
He said the staff are very nice and helpful, assigning people to look after them and take care of any needs they may have.
"We invite artists in the community to come on the trips with us and we had about half a dozen craftspeople come along to sell their sewing, drawings and prints on each of our two trips this past month," said Ford.
"We do between $4,000 to $5,000 in sales each time we go and the artists also seem to do quite well."
Ford said the centre does well with traditional-type clothing such as mitts at Meadowbank.
He said they decided to bring actual furs along during their two trips this year and they sold quite well.
"Most of our sales are to other Inuit from different communities who don't have access to stores in their community that sell the types of products we do," said Ford.
"We do a lot of community crafts such as the Pangnirtung-style hats and scarves, fur mitts and items of that nature.
"Basically, we bring up everything we have in our store but mostly what we sell are items made in our community."
Ford said the Jessie Oonark Centre has also talked with AEM about visiting Meadowbank on a more regular basis, perhaps a few times a year instead of just at Christmas.
He said people at the mine are always asking for more visits, but time seems to pass too quickly on them and they still haven't been able to arrange the extra visits.
"Lots of times, as well, when people are travelling between the community and Meadowbank, they come into the store with orders to bring back to people at the mine.
"There's definitely room for the extra visits and, if we can both find the time to accommodate them, we'd love to do them for sure."
Ford said the money made at Meadowbank represents a pretty good day's worth of sales.
He said although they're only there for four hours in the afternoon, the long haul out and back takes the entire day for one trip.
"I'm not sure what the sales we make at Meadowbank represent as a percentage of our sales, but it's more than double or triple our sales on a regular day.
"The local craftspeople we take really appreciate the opportunity, as well. They can go in and put their own price on their wares and, from what I see, the artists who make the trip to Meadowbank with us do quite well.