Kivalliq Arctic Foods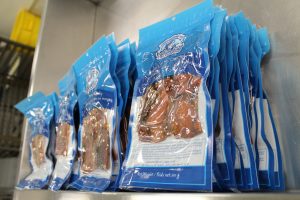 Scott Saddler is the general manager at Kivalliq Arctic Foods. Scott is a long-time Nunavut resident with an extensive background in food production and meat processing. KAF produces a wide assortment of caribou, muskox and Arctic char products for customers across Nunavut. Addressing demand keeps this plant busy because whether a household in Pond Inlet, a school in Arctic Bay or a commercial establishment in Rankin Inlet, KAF strives to meet the country food needs of Nunavummiut.
Scott and his team work with Inuit hunters and fishermen from across the Kivalliq, and occasionally other Nunavut regions, to stock the country food needed to meet the growing demand. KAF also works closely with the communities of Chesterfield Inlet and Whale Cove, both of which operate fish and maktaaq processing facilities in the summer months, to supply products for redistribution across Nunavut. Of course, KAF is acutely aware of the delicate balance between commercial harvesting and the sustainability of Nunavut's wildlife. And KAF works alongside food safety specialists and the Canadian Food Inspection Agency on its fish processing, as food safety is critical to KAF.
Scott's latest creation is a muskox sausage that is proving popular with households and commercial establishments. The sausages come in a variety of flavours and are a must-try Nunavut speciality.