Taluq Designs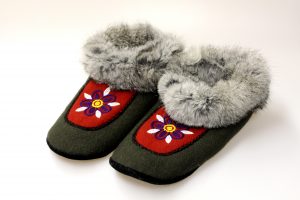 In November 2018 Taluq Designs, under the leadership of General Manager Mona Igutsaq, initiated an eight-week sewing workshop for ladies in Taloyoak.
With support from the Department of Economic Development and Transportation in Kugluktuk, the Kitikmeot Inuit Association in Cambridge Bay and the Nunavut Development Corporation in Rankin Inlet, the workshop participants were taught how to sew many of the core items Taluq Designs produces, such as slippers, mitts, tea cozies and, of course, the famous red amauti packing polar bear familiar to all Inuit craft lovers.
Long-time Taloyoak sewer Maudie Ikitliq led the workshop attended by local seamstresses. Mona notes that it is often difficult to find local people to help sew for Taluq, and that it's not like it used to be with everyone being so busy these days. Mona is hopeful that the workshop will open up a new generation of community sewers to both help support Taluq's production requirements but also generate additional income earning opportunities for the participants.