Jessie Oonark
Jessie Oonark Ltd.
Baker Lake, NU
Retail and production of arts and crafts including silkscreen and embroidery, crafts and clothing.
World renowned Inuit artist Jessie Oonark (1906-1985) was a prolific artist producing many prints and wall hangings from the mid 1950's through 1979 when she lost the dexterity in her hands following a neurological operation in Winnipeg.  Her distinctive style using bold, flat areas of colour is evocative of traditional Inuit sewing techniques.  Elected as a member of the Royal Canadian Academy of Arts in 1975 and named an Officer of the Order of Canada in 1984, her work is widely recognized and reproduced.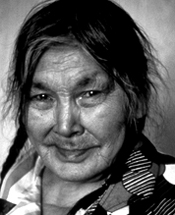 The Jessie Ooonark Arts and Crafts Centre named in her honour opened in 1992 in Baker Lake.  Offering workspace for local carvers, seamstresses, jewellery makers and printmakers, the Centre is also home to Jessie Oonark Crafts Ltd.  Jessie Oonark Crafts is a light manufacturing company offering silk-screened products with designs by past and current artists including many of the works of Jessie Oonark.
Beautiful traditional Inuit art is used on many products including silk scarves and ties, t-shirts and fleece clothing.  The care and attention to detail in these products highlights the unique beauty of the Inuit culture evoked in the artwork.
In addition, Jessie Oonark Crafts offers a wide variety of arts and crafts by local artisans including carvings, prints, jewellery and especially wall hangings in the unique Baker Lake style.
Email General Manager, David Ford at jessie_ndc@qiniq.com
Tel: 867-793-2428 / Fax: 867-793-2429
PO Box 280
Baker Lake, NU
X0C 0A0