Barren beauty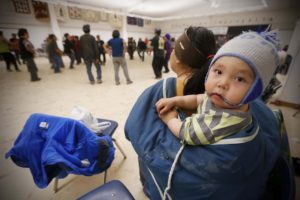 At first glance, the Arctic can make you feel vulnerable.
It's vast. The communities give new meaning to the definition of isolated. Everyone else seems to belong except you — at least, if you're an outsider.
And then you find out there's a Kentucky Fried Chicken and Pizza Hut outlet at the Northern Store, and the world seems just a little smaller.
At least, those are the first impressions from a weeklong journey to the Nunavut communities of Baker Lake and Rankin Inlet, the former the only inland hamlet in all of the Arctic and the latter a larger regional town on the western shore of Hudson Bay.
In late September, I joined photographer John Woods for the trip to interview Inuit artists for two long features revolving around the Winnipeg Art Gallery's plans to build an Inuit Art Centre in Winnipeg. [Read the two-part series: Inuit HeArt]
But since it's estimated that about only one per cent of Canadians ever set foot in the Arctic, we decided to offer at least a small glimpse of what life is like north of the 60th parallel. And, more important, through Woods' camera lens.
To read the rest of the article please visit: http://www.winnipegfreepress.com/local/barren-beauty-409913585.html