Northern Stars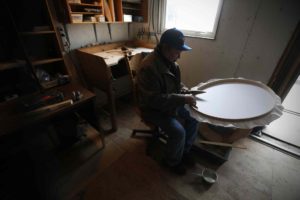 RANKIN INLET — Noah Tiktak has these brown, smiling eyes. They light up when he talks about the generations of his family — his father, his daughters — who have told the story of the Inuit using their voice, their hands, their paint.
"Art is in my blood," he says. "It's who I am."
Tiktak, now 55, is seated in a small shack just outside his home in Rankin Inlet, where he comes to create his jewelry and dancing drums. It's late September, and the weather is starting to turn in the Arctic community, on the northwest shore of Hudson's Bay.
In that shack, Tiktak tells of two experiences that synthesize the brutally beautiful existence of an Inuit people steeped in mysticism, mistreatment and, ultimately, an innate desire to tell their own stories.
To read the rest of this story please visit: https://www.winnipegfreepress.com/local/cover-north-stars-inside-northern-exposure-405492856.html.