Promoting our Artists & Finding New Markets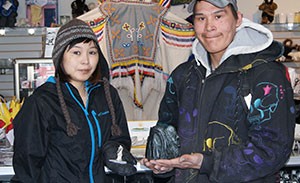 Last year NDC undertook many market development initiatives with an emphasis on promoting the goods made by Nunavut seamstresses, carvers and crafts people.
NDC is rebuilding the pan-northern market place, a market that typically generates the most interest among buyers and best profit margins for our producers.
NDC's participation in the Great Northern Arts Festival in Inuvik was positive and generated significant sales both at the event and in the months following. Access to Inuit-produced items, whether sealskin goods or jewellery from Pangnirtung, proved popular with show attendees.
NDC also visited the communities of Naujaat, Igloolik and Hall Beach to source out producers and also to continue building markets for Nunavut-produced goods and services.
In addition, NDC participated in all three major Nunavut trade shows in Cambridge Bay, Rankin Inlet and Iqaluit.
ᓄᓇᕗᑦ ᐱᕙᓪᓕᐊᔪᓕᕆᔨᒃᑯᑦ ᑯᐊᐳᕇᓴᓐᖓ ᐱᖃᑕᐅᓲᖑᒋᕗᖅ ᐅᑭᐅᖅᑕᖅᑐᒥᐅᓄᑦ ᓴᓇᙳᐊᕐᓂᒃᑯᑦ ᑲᑎᓐᓂᐅᓲᖅ ᐃᓅᕕᖕᒥ ᐱᐅᔪᒥᒃ ᓂᐅᕐᕈᑎᖃᕐᓂᕐᒥᒡᓗ ᑕᐃᑲᓂ ᑕᖅᑭᒐᓴᖕᓂᓪᓗ ᑭᖑᓂᐊᓂ. ᑕᕙᑲᐅᑎᒋᐅᓪᓗᑎᒃ ᐃᓄᖕᓄᑦ ᓴᓇᔭᐅᓯᒪᔪᑦ ᕿᓯᖕᒥᙶᖅᑐᑦ ᐱᐅᓴᐅᑏᓪᓘᓐᓃᑦ ᐸᖕᓂᖅᑑᕐᒥᙶᖅᑐᑦ, ᐱᐅᒋᔭᐅᓂᖅᐹᖑᓚᐅᖅᐳᑦ ᐅᐸᒃᓯᒪᔪᓄᑦ.
ᓄᓇᕗᑦ ᐱᕙᓪᓕᐊᔪᓕᕆᔨᒃᑯᑦ ᑯᐊᐳᕇᓴᓐᖓ ᓂᐅᕐᕈᓚᐅᕆᕗᑦ ᓇᐅᔮᓄᑦ, ᐃᒡᓗᓕᖕᒧᑦ ᓴᓂᕋᔭᖕᒧᓪᓗ ᓴᓇᓲᓂᒃ ᑕᑯᔭᖅᑐᖅᖢᑎᒃ ᓂᐅᕐᕈᑎᖃᕈᓐᓇᕐᓂᕐᒥᒡᓗ ᑲᔪᓯᓇᓱᒃᑎᓪᓗᒋᑦ ᓄᓇᕗᒻᒥᙶᖅᑐᓂᒃ ᑭᓱᓕᐊᕆᔭᐅᓯᒪᔪᓂᒃ ᐱᒍᔾᔨᔨᓂᒡᓗ.
ᖄᖓᒍᑦ, ᓄᓇᕗᑦ ᐱᕙᓪᓕᐊᔪᓕᕆᔨᒃᑯᑦ ᑯᐊᐳᕇᓴᓐᖓ ᐱᖃᑕᐅᓚᐅᖅᐳᑦ ᐱᖓᓱᓂᒃ ᓄᓇᕗᒻᒥ ᑕᑯᒃᓴᐅᑎᑦᑎᔪᓂ ᐃᖃᓗᑦᑑᑦᑎᐊᕐᒥ, ᑲᖏᖅᖠᓂᕐᒥ ᐃᖃᓗᖕᓂᓪᓗ.